Volunteer
Be part of the Sydney New Year's Eve volunteer team
27 December to 31 December 2022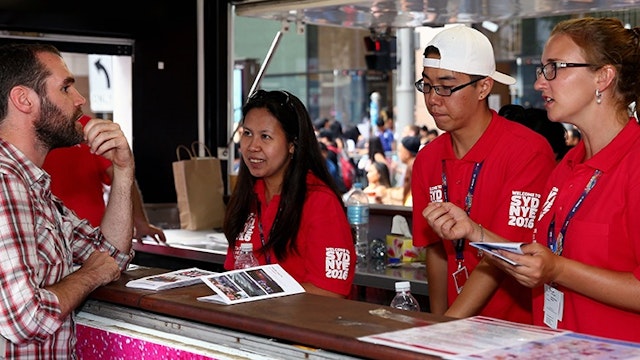 Sydney New Year's Eve is one the world's largest New Year's Eve celebrations, with a local audience of over a million around the harbour foreshore, and a global audience reach over 425 million.
Sydney Harbour takes centre stage for the event program and includes pylon projections and lighting displays throughout the night, a Welcome to Country, Calling Country fireworks display at 9pm and the midnight spectacular.
Volunteer opportunities
The City of Sydney is recruiting volunteers for the event from 27 December to 31 December 2022.
Our volunteers are the face of Sydney New Year's Eve and provide valuable information to our audiences. Volunteers are based at information booths around the city and in roving teams at key locations. You'll share information with people about the event, vantage points, accessible viewing areas, public facilities, transport, amenities and general directions.
Requirements
Local knowledge of the Sydney city centre is essential.
A second language is desirable as the city hosts visitors from around the world.
A friendly and polite manner.
Experience in customer service is welcomed.
Volunteers must be over 18 years of age.
Compulsory dates include Tuesday 20 December and Saturday 31 December.
Volunteer benefits
Exclusive Sydney New Year's Eve cap
Access to an A+ viewing site
Certificate of appreciation
Statement of service
Satisfaction in being part of one of the world's biggest events
Application, selection and training
Selection process
Based on your application you may be invited to attend a group interview.
Interviews will take place between 1 November and 5 December 2022.
A mandatory volunteer briefing session will be held on Tuesday 20 December.
First-time volunteers for Sydney New Year's Eve will also be required to attend an on-site walk through of the city on Tuesday 27 December.
Applying to be a volunteer
Please apply through Better Impact.
Volunteer dates and times
Pre-event information booths – 27 December to 30 December
Shifts are available in the morning and afternoon. Shifts are approximately 6 hours and are based at the information booths at Queen Victoria Building or Customs House.
New Year's Eve – Saturday 31 December
Shifts are available in the morning, afternoon and evening of New Year's Eve. Shifts vary between 4 to 8 hours and are based at the information booths or as a part of a roving team.
You can nominate any shift preferences in your application and you'll receive more information during the selection process.
Want to be a team leader?
We're also seeking team leaders. If you would like to step up to the role of a team leader, please nominate this in your application. Team leaders are responsible for managing up to 10 volunteers during their shifts. Team leaders must attend an additional briefing on Tuesday 6 December. Previous experience as a volunteer leader is desirable.
Applications close on 28 November 2022
For more information on the event:
Email: majevvolunteers@cityofsydney.nsw.gov.au
Phone: 02 9265 9797