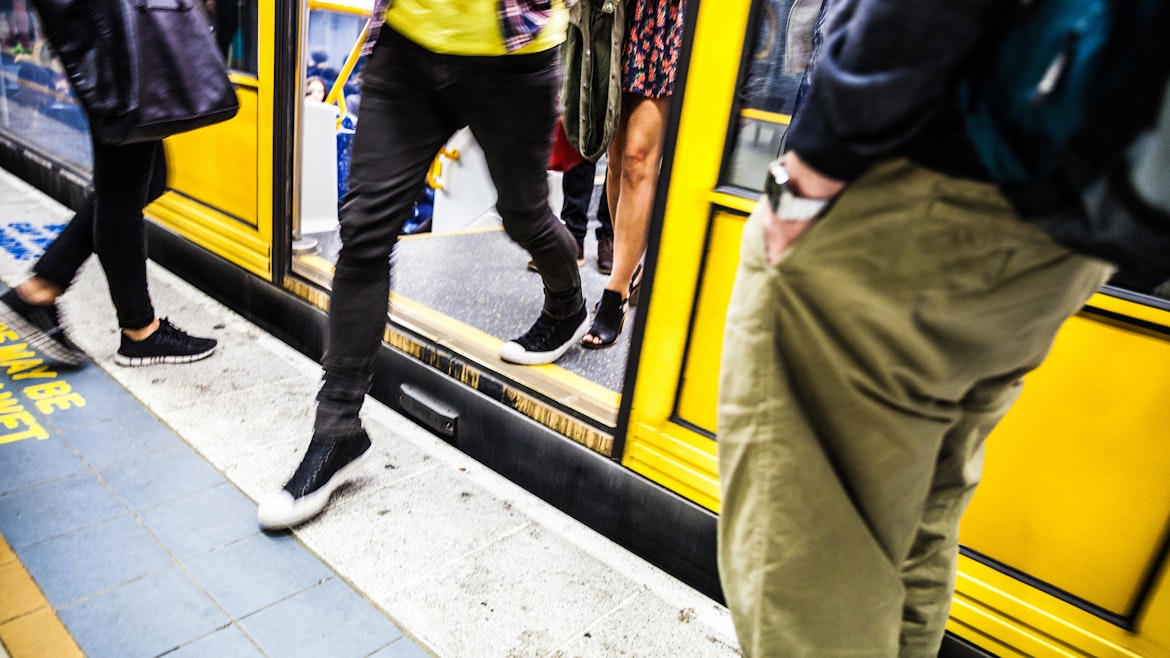 With thousands of extra services running, public transport is the only way to travel on New Year's Eve.
Very large crowds are expected, so if you're travelling into the city, plan your trip and arrive early.
You'll need an Opal card to travel on public transport. Remember to top up your card before the event as queues are expected on the day.
Getting home
Getting out of the city is different on New Year's Eve. The way you come in will be different to the way you leave. There are many roads closed to people walking, driving and cycling, so follow directions and check signs.
Be prepared for a longer walk to buses and trains. Some train stations may have different entry and exit points.
Try to leave the city after 1am to avoid the crowds.
Download and print these maps from Transport Info to take with you on the night.
Trains
More than 1,000 extra trains will run throughout the day and into the early hours of the new year.
Some stations will have changed arrangements as roads will close and vantage points will be at capacity:
Circular Quay: Between 5pm and midnight, Circular Quay station will close. You can walk to the harbour foreshore from Wynyard, St James or Martin Place stations.
Milsons Point: Between 6pm and midnight, citybound trains won't stop at Milsons Point. You'll need to get off the train at North Sydney station and walk to your destination.
Domestic Airport and International Airport: Between 1am and 5am on New Year's Day, trains won't stop at Domestic Airport and International Airport stations. Sydney Airport will close during these times.
Buses
More than 3,500 extra bus services will run throughout the day and night. Services into and out of the city will run to altered routes. Temporary bus stops are in place from 2pm.
Look for the signs to guide you to vantage points and bus stops to get home. Walking routes will be different on New Year's Eve. The way you come in will be different to the way you leave. Plan your trip and prepare to walk a little more than usual.
Key bus changes:
From 2pm until 6pm: Circular Quay services will run from Martin Place.
From 3pm: Buses in North Sydney will use temporary stops. While the Sydney Harbour Bridge is closed for the midnight fireworks, buses will terminate at North Sydney station.
From 6pm until 4am: Many buses will relocate to temporary stops in Hyde Park. Some services will continue to operate from York Street at the QVB.
Access to buses from Wynyard will be via King Street only.
Ferries
Ferries will be busy and fill up early on New Year's Eve. If you're looking to catch a ferry, plan to arrive early and have a plan-B transport option.
Key ferry changes:
Ferries won't run to Circular Quay from 5pm.
Remaining ferries stop running from 8pm.
After the midnight fireworks, limited ferries run on select lines from 12.45am.
Light rail
Light rail services run between Central Station and Dulwich Hill. On New Year's Eve, services will run throughout the day and past midnight to help you get home.
The best stops to access Darling Harbour include Pyrmont Bay, Convention, The Star and Exhibition Centre.
Secure taxi ranks
These taxi ranks will be staffed by security guards on New Year's Eve to help you get home safely:
Pyrmont Bridge Road, between Edward and Murray streets, 9pm to 4am.
Sussex Street, between King and Market streets, 9pm to 4am.
Liverpool Street, between Wentworth Avenue and Elizabeth Street, 9pm to 4am.
Lime Street, 9pm to 11pm and 1.30am to 4am.
Walking and riding
For people walking and cycling, closures will be in place too. The Sydney Harbour Bridge walkway and key cycleways close from the early evening. Spaces to lock up bikes in the city will be limited.
There'll be a temporary bike share hub in Belmore Park, near Central station.
Don't drink and ride. People riding bikes face the same alcohol restrictions as drivers.
Live updates
Follow @BusesInfo, @TrainsInfo and @FerriesInfo on Twitter for up-to-the-minute information and stay connected with a real-time transport app. For real-time updates on road closures and traffic, follow @LiveTrafficSyd.
Visit Transport Info for details on extra services.