Public transport
All aboard for NYE
Your best bet for travelling to the celebrations.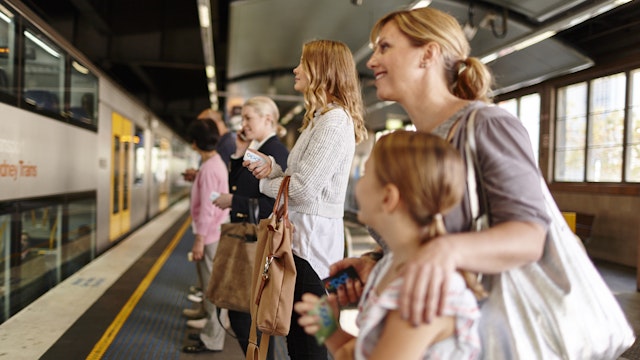 With thousands of extra services running and major road closures in place, public transport is the only way to travel on New Year's Eve. Large crowds are expected so please plan your trip to and from the city ahead of time and consider all the available travel options.
You can tap on and off public transport services using an Opal card or American Express, Mastercard, Visa contactless card or linked device. Detailed public transport information including service changes will be available on transportnsw.info closer to the date.
Trains
Extra trains will run throughout the day on New Year's Eve and into the early hours of the New Year.
Access to key stations including Circular Quay and Milsons Point will be affected on the night as vantage points surrounding the station reach capacity. More details will be available closer to the date.
From 12.30am until 4.30am trains won't stop at Domestic Airport and International Airport stations as Sydney Airport will be closed.
Metro
Metro services start from 4am and will continue to run regularly through until the early morning on New Year's Day.
For access to vantage points in the city, change at Epping. For access to the lower north shore, change at Chatswood to connect with trains to North Sydney.
Buses
Thousands of extra bus services will run throughout the day and night.
Services to and from the city will use different routes and bus stops while road closures are in place in the city. Buses in local council areas will also be affected by road closures so plan ahead.
Check back closer to the event for more details on bus changes for New Year's Eve.
Ferries
Ferries are a very popular way to travel on New Year's Eve and services typically begin to reach capacity from mid-afternoon. If you're looking to catch a ferry, plan to arrive early in the day as queues will be long and consider a plan-B transport option including local bus services if ferries are at capacity
Access to some ferry wharves including Circular Quay, Milsons Point and McMahons Point will also be affected on New Year's Eve as surrounding vantage points reach capacity during the day. You may not be able to catch a ferry to your preferred destination and will need to consider other transport options including trains and continuing on foot instead. Ferries will also be affected ahead of the fireworks and some ferries will stop operating on the harbour entirely from the early evening.
More details on ferry service changes will be available closer to the event.
Light rail
Sydney Light Rail services run regularly through the Sydney CBD, South East and Inner West suburbs. Services will be affected as major roads begin to close in the city around Circular Quay and Wynyard on New Year's Eve. Some stops won't be accessible and you'll need to continue on foot or change for a train instead.
More details on service changes and affected light rail stops on New Year's Eve will be available closer to the date.
Secure taxi ranks
Security guards will be present at various taxi ranks on New Year's Eve to help you get home safely. Details on taxi rank locations will be available closer to the date.
Walking and riding
For people walking and cycling, closures will be in place too. The walkway on the Sydney Harbour Bridge will close from the early evening on New Year's Eve, and the Cahill Expressway walkway over Circular Quay will close from Thursday 30 December. Key cycleways in the Sydney CBD will also be closed as major roads begin to close for pedestrian safety throughout the day on New Year's Eve. More information will be available closer to the event.
Spaces to lock up bikes in the city will be limited. There'll be a temporary bike share hub in Belmore Park, near Central station.
Don't drink and ride. People riding bikes face the same alcohol restrictions as drivers.
Getting home
Getting out of the city is different on New Year's Eve. The way you arrived will be different to the way you leave to get home as many roads will be closed to both pedestrian and motorists. Plenty of staff will be on the ground along with extra signage to help you find your way back to transport hubs to get home.
Be prepared for a longer walk to buses and trains. Some train stations may have different entry and exit points. Try to leave the city after 1am to avoid the crowds.
Live updates
Follow @TrainsInfo, @SydneyMetro, @BusesInfo, and @FerriesInfo on Twitter for real-time service information or use a real-time transport app to track your service.
From early December you can vist Transport NSW for more details on all the extra services and to plan your trip on New Year's Eve.
For real-time updates on road closures and traffic conditions, follow @LiveTrafficSyd.