Accessibility
A safe, inclusive and enjoyable event for all.
There are accessible options available to make Sydney New Year's Eve memorable for people with disability.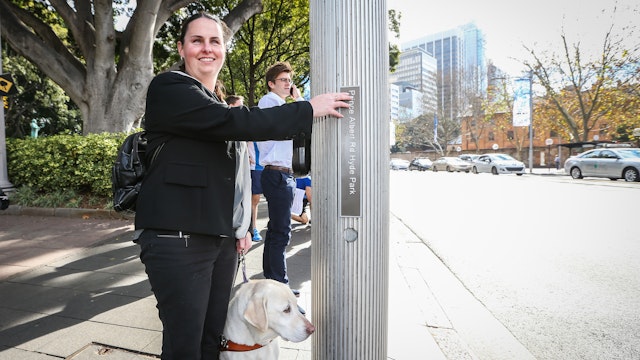 Designated accessible viewing areas
These areas are reserved for people with disabiity and / or access needs to enjoy with their family and friends. We have provided some information for each spot including accessible features, site entry and public transport advice.
Bookings essential.
Our vantage point map also shows general public viewing areas that have accessible features.
Changing Places
A Changing Places facility is available at Abraham Mott Hall located at 15A Argyle Place, Millers Point, between 5pm on New Year's Eve and 1am on New Year's Day. The facility includes an adult size adjustable change table, ceiling hoists and space for up to 2 assistants.
Accessibility map
The City of Sydney's accessibility map can help you to plan your visit to Sydney New Year's Eve. There's details on public toilets, potential barriers, stairs and inclines.
It's important to note that some things are different on New Year's Eve and there are major road closures throughout the CBD which may affect access to facilities or through roads indicated on this map. Visit the road closures page or contact our Accessibility Officer on +61 2 9265 9333 or nyeaccessandinclusion@cityofsydney.nsw.gov.au for more information.
Other ways to enjoy the celebrations
Audio description
ABC Radio will broadcast a live audio description of the 9pm Calling Country and midnight fireworks.
Tune into your local ABC radio station via the ABC listen app, online or on channel 25 on your television.
You can also listen to the live audio description through 2RPH.
TV and online
You can watch the event on the ABC and iview. The broadcast begins at 8.30pm. Live closed captions available.
Radio
Listen to KIIS 1065 for the exclusive soundtrack at 9pm and midnight.
Pylon projections
Keep an eye out for the Auslan, British and American sign language interpretations of Welcome to SydNYE, projected on both sides of the Sydney Harbour Bridge pylons.
Alternative event guide formats
Large print PDF 51 KB
Audio MP3 6 MB
Easy read guide 7 MB
Accommodation and transport
City of Sydney provides an accessibility map. Keep in mind road closures are in place on New Year's Eve.
Zero200 offers accessible taxis. Bookings essential. Call 02 8332 0200.
Transport Info features trip planners with maps and journey details.
Sydney.com provides accessible tourist information, including things to do and options for getting around.
Contacts
Sydney New Year's Eve Accessibility Officer
Phone: +61 2 9265 9333
Email: nyeaccessandinclusion@cityofsydney.nsw.gov.au
Telephone Interpreting Service: 13 14 50 (Australia only)
You can also contact us through the National Relay Service.